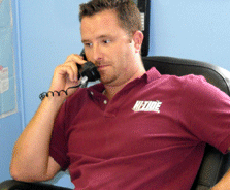 Have a question? We've got the answers!
If you don't see an answer to your question here, contact us and we'll steer you in the right direction.
FAQs of Hi-Tide Boat Lifts
Have a question? We've got the answers!
If you don't see an answer to your question here, contact us and we'll steer you in the right direction.
Which is the better power supply for my lift, 110V or 220V?
All Hi-Tide boat lifts with (2) 1 HP motors or larger and (4) ¾ HP motors or larger must be wired for 220V. All other Hi-Tide boat lifts can be wired either for 110V or 220V. If you already have 110V wired to your slip, be sure to have it inspected to ensure it can handle 20 Amps @ 110V. The number one reason for damaged motors and switches is inadequate 110V supplies. For the same reason, boat lifts should not be run on extension cords. If you have to run new wire to your boat lift, Hi-Tide recommends wiring the boat lift for 220V, especially on the long runs.
Why should I choose a Hi-Tide boat lift?
Hi-Tide boat lifts are the only boat lift with the patented Gear Drive (Patent no. 6,397,691). The Gear Drive gear box is cleaner, quieter, faster, and more durable than any other system. Hi-Tide is also the only boat lift manufacturer UL approved (File E161313) and inspected on a monthly basis to ensure all Hi-Tide electronics meet the toughest standards set forth by UL and the National Electric Code. All of this is coupled with top notch customer service and backed with the best warranty and product liability insurance. Hi-Tide not only lifts the boats that the other manufacturers won't, we also lift the boats the other manufacturers can't.
What size boat can your products lift?
Hi-Tide currently manufactures boat lifts from 1,500 lbs. for Jet Skis to 180,000 lbs. for Mega Yachts. This is not just our capability, these products are installed and operational.
Why aluminum over galvanized?
In the saltwater environment, marine grade aluminum (6061-T6) offers a greatly increased life expectancy when compared to galvanized steel. All of our structural warranties on our boat lifts reflect this fact. The lightweight properties of aluminum also allow the contractors to sometimes install our boat lifts without a barge or crane.
Where are Hi-Tide lifts manufactured?
Our manufacturing plant and sales offices are located in Fort Pierce, Florida, just north of Stuart, "The Sailfish Capital of the World."
What is the warranty?
Depending on the model of boat lift you choose, the warranty ranges from five, to ten, to fifteen years structurally for aluminum boat lifts and one to three years structurally for galvanized steel boat lifts. All Gear Drive gear boxes are warranted for five years, electric motors for two years. There is also a one year comprehensive warranty on all remaining components including electrical controls.
How long does it take to get my boat out of water with a Hi-Tide boat lift?
That depends on the model of Hi-Tide boat lift you choose. Our fastest boat lifts are coupled with the Hi-Tide Gear Drive X2 gear box and provide significantly faster lifting speeds than conventional open-gearing drives, belt drives, and chain drives. For more information and exact lifting speeds, please take a look at our specifications.
How do I choose a contractor?
Hi-Tide markets and sells boat lifts through a network of trained contractors. To find one near you, simply contact us. Using a contractor recommended by Hi-Tide assures the quality and performance of the boat lift installation.
Do I need a permit?
Most jurisdictions require a permit before installing a boat lift. Your approved contractor will be aware of the requirements and local codes and can easily guide you through the process.
How do I operate my new lift?
Once the installation is complete, your contractor will train you on the safe operation of the boat lift. If you ever have operational questions, contact our technical staff at 1-800-544-0735. Owner's Manuals for your specific boat lift are also available on our website.
How do I maintain my lift?
It is recommended that you lubricate all the grease fittings on the bearings and pulleys every six months. In addition, the cable should be rinsed on a regular basis with fresh water and sprayed with a corrosion preventative spray. Watch for fraying, kinking or any other signs of cable wear/damage. All cables should be replaced every five years. Many customers contract with their installers to inspect and do routine maintenance on a scheduled basis. Owner's Manuals for your specific boat lift are also available on our website.
Can I install the lift myself?
Hi-Tide strongly recommends to our customers to engage a qualified dealer to install the boat lift. These are professional contractors that assure you and Hi-Tide that the equipment is properly installed and the boat is properly adjusted in the boat lift cradle so our product warranty can be provided. All the risk and liability will be borne to any person installing the lift that is not authorized by Hi-Tide.
What should I do with my boat in the event of a hurricane or storm?
The best solution is to remove the vessel from the boat lift and park it safely on dry land. No boat lift is hurricane proof and your boat lift could have a collision from other vessels, docks or major debris. Most importantly, if your vessel is left on the lift you may not have the electrical power to lower the vessel in the water after the storm has passed. If you are left with no other choice but to leave the vessel on the lift, Hi-Tide suggests the following to support the safety of your vessel before, during and after a storm: 1) Raise the lift as high as possible without double wrapping the cable or winding beyond the winding area. 2) With the boat tipped slightly to the stern for drainage, secure the boat to the lifter beams and secure the lifter beams to the pilings to prevent the whole boat and cradle from swinging. In areas where high water is anticipated, it is suggested instead to tie several mooring lines to the vessel to prevent it from becoming debris to a neighbor. 3) Make sure power is turned off including the breaker supply in the house. If at all possible, remove the motors and controls to prevent failure from flooding. 4) Remove all loose materials from the vessel, including cushions that are snapped in place. Put all antennas and outriggers down if they cannot be removed. 5) If you're not in a high water area, remove the drain plug or make sure the bilge pump is on and working so the boat doesn't flood with water and overload the boat lift. 6) Make certain you have all of your vessel's paperwork in order, including registration, in case it is swept away.
Hi-Tide Boat Lift Manuals
Download installation and owners manuals as well as specifications and warranties for Hi-Tide products:
Products
Electrical