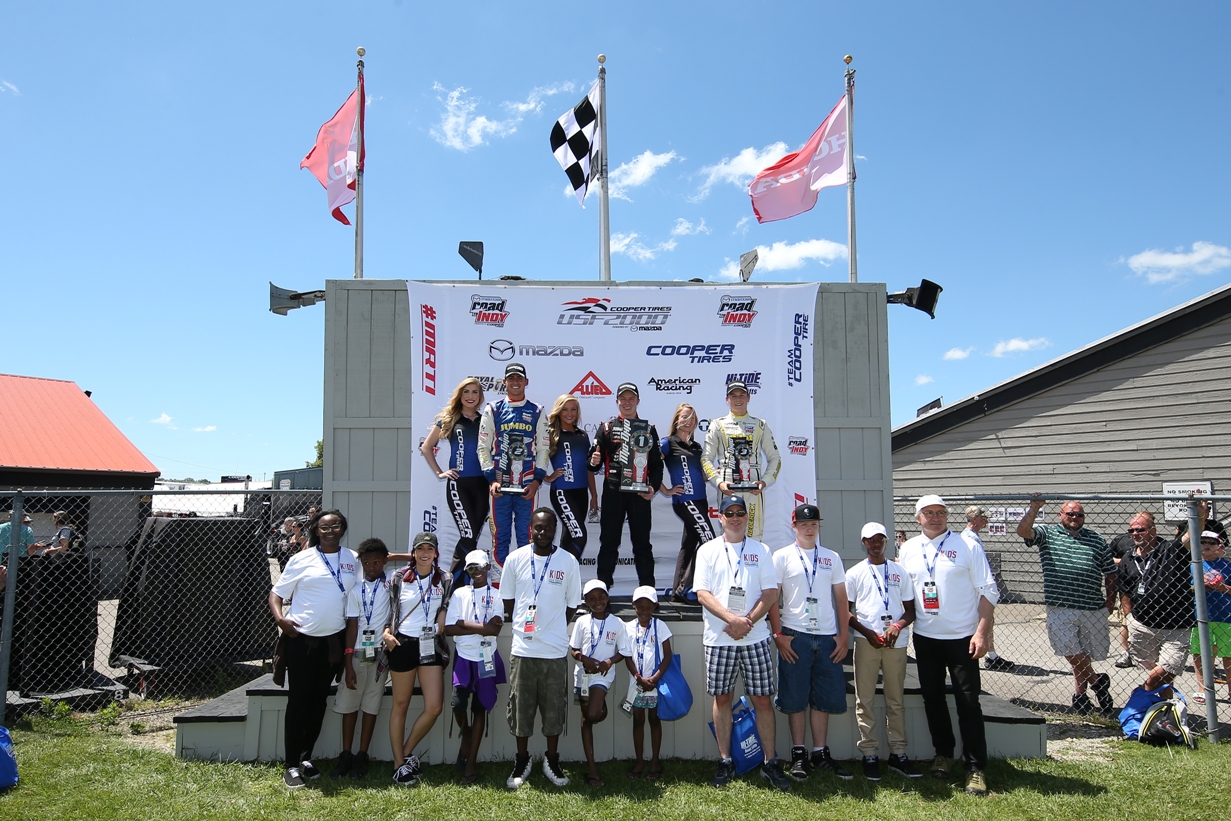 501(c)(3) program to benefit children across the United States
FORT PIERCE, Fla. (November 15, 2017) – Hi-Tide Boat Lifts, the leading boat lift manufacturer in the industry, is excited to announce that it is creating opportunities through its Kids on Track program by becoming a 501(c)(3) non-profit. 
Dedicated to lifting the spirits of children by providing them with unique access to Mazda Road to Indy Presented by Cooper Tires racing events in conjunction with the Verizon IndyCar Series, Kids on Track partners with other charitable groups across the nation that benefit children, such as Big Brothers Big Sisters, Youth Alliance, Hometown Heroes, and Ronald McDonald House Charities. Throughout 2017, Kids on Track worked with these charitable groups in cities where Mazda Road to Indy races were held to grant children free access to racing events, behind-the-scenes tours of racetracks, meet-and-greets with drivers and more. The non-profit's objective is to inspire children and youth by exposing them to opportunities and people in a unique and personal way.
Prior to becoming a non-profit, Kids on Track was 100 percent funded by Hi-Tide Boat Lifts. The boat lift manufacturer elected to make Kids on Track a 501(c)(3) in an effort to expand the organization and inspire even more children. 
"Since its start in 2015, Kids on Track has created opportunities of inspiration for more than 250 children throughout the nation," said Craig Wood, owner of Hi-Tide Boat Lifts and founder of Kids on Track. "Now that we have become an official non-profit organization, we are looking forward to continuing to partner with Andersen Promotions and the Mazda Road to Indy to grow the program. In order to do that, we are laying the groundwork for the participation of other individuals and organizations." 
Kids on Track's 2018 season will begin in March on the streets of St. Petersburg, Fla., and will continue through the end of the year at each Mazda Road to Indy racing event (race schedule can be viewed here).
Additional information is available at hi-tide.com/kids-on-track.
About Hi-Tide Boat Lifts:
Hi-Tide Boat Lifts is a pioneer in the boat lift industry, as the first manufacturer to design a product of corrosion-resistant aluminum made specifically for the marine environment. As the leaders and innovators in the boat lift industry, the company also developed and patented a direct gear box, the Gear Drive, that is only available from Hi-Tide.
About Andersen Promotions:
Andersen Promotions has a long and successful background in promoting open-wheel championships and has also owned multiple race teams, including an Indy Lights team, in the past. The company relaunched the Cooper Tires USF2000 Championship Powered by Mazda in 2010, which it operated from 1992 through 2001. In December of 2012, Andersen Promotions founded the Pro Mazda Championship Presented by Cooper Tires to replace the void left by the Star Mazda Series which ceased operations after 22 years. On July 12, 2013, it was announced that Andersen Promotions would take over the licensing and operation of the Indy Lights Series from INDYCAR and now operates all three levels of the Mazda Road to Indy Presented by Cooper Tires. For additional information, please visit www.indylights.com, www.promazda.com and www.usf2000.com.
About Mazda, Mazda Motorsports: Mazda Motorsports boasts the most comprehensive auto racing development ladder system of any auto manufacturer in the world. The Mazda Road to 24 program offers a number of scholarships to advance drivers up the sports car racing ladder, beginning with the Global MX-5 Cup series and culminating with the Mazda Prototype team. The Mazda Road to Indy is a similar program that includes Mazda-powered categories of USF2000, Pro Mazda and Indy Lights. In grassroots road racing, more Mazdas race on any given weekend in North America than any other manufacturer. Mazda is also the title sponsor of the renowned Mazda Raceway Laguna Seca in Monterey, Calif. Follow all of the latest news at MazdaMotorsports.com, @MazdaRacing on Twitter, and MazdaMotorsports on Instagram and Facebook.
About Cooper Tire & Rubber Company: Cooper Tire & Rubber Company is the parent company of a global family of companies that specializes in the design, manufacture, marketing and sale of innovative, great-performing tires that you can count on to last for thousands of miles, getting you where you need to go, and back again. Cooper is proud to be the spec tire for all three levels of the Mazda Road to Indy presented by Cooper Tires, a development program within the Verizon IndyCar Series. Cooper tires can also be seen on the track as a sponsor in the short course off-road TORC Series. Headquartered in Findlay, Ohio, Cooper, with its subsidiaries, has manufacturing, sales, distribution, technical and design operations in more than one dozen countries around the world. To connect with Cooper, visit www.coopertire.com, www.facebook.com/coopertire or www.twitter.com/teamcoopertire.