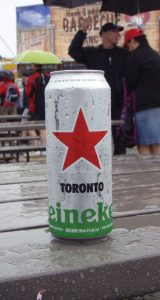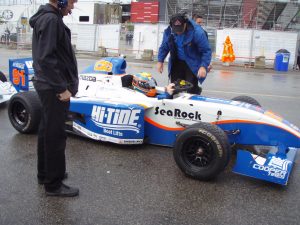 Character building. That partly sums up the June 12-14 race weekend in Toronto for all of us.
For Kyle Connery, racing the #91 Hi-Tide/SeaRock Pro Mazda, it meant overcoming an unhappy 15th place qualification result on Friday. It meant dealing with difficult changing weather conditions. It meant avoiding the carnage of a first-lap 6-car wreck on the first lap of Race 1 on Saturday. It meant hanging on with ZERO visibility in Turn 3 of Race 2 on Sunday…..settling down and picking off cars.
For us, character building meant 3700 miles of the new experience of towing a small 18-ft travel trailer. And camping. In rain. In temperatures plummeting below 70 degrees. (We live in Florida, ya know!) It meant 3 of us learning to dance around each other living with less floor space than in our bathroom at home. And mud. This stuff was everywhere! Being a boat guy the only mud you normally have to deal with is on the anchor…..which has a convenient ocean in which to rinse it.
The goal of the trip was to get to the Toronto IndyCar Grand Prix, with everything else on the way up and the way back being catch-as-catch-can experiences. We immediately went to Plan B on the way north when awful weather conditions on the East Coast led us to go inland and up through Georgia, Tennessee, Ohio, etc. So the trip basically became Florida, hook around the north shore of Lake Ontario, and return! Not a drop of saltwater in 3700 miles.
All we heard about Toronto was about the horrible traffic. From everyone. And it's true. But we snagged VIP parking passes for the parking garage right at the race course, and we left early from the campground (Rouge Hill, near the Toronto Zoo) and beat traffic downtown. The traffic IS bad……but seems very polite. (Remember, we live in Florida!) And there is an advantage in heavy traffic downtown for us visitors in that we get to go really slow and better see the sights. And it is a very cool downtown. We could take the train, trams, taxis and ferries to get everywhere we needed, which beat walking during the heavy periods of rain. (Again, we live in Florida so the concept of friendly, clean, convenient mass transit is a bit foreign. But hey, we were in Canada……and to us, that's foreign, eh?).
So, take a cool downtown on the edge of Lake Ontario, and then plunk a serious race course down at lakeside and the exposition place……and you have one amazing annual event. (St. Pete in Florida is similar but not quite on the same scale.) The drivers seem to love the race course, calling it a "road course" plunked down into a street setting. The turns are more open than St. Pete, with a few more runoff areas, and there are more open zones with passing possibilities. It's bumpy as all get-out with difficult transitions between asphalt and concrete. But everyone seems to love racing here for the track and the wonderful hosting by the people of Toronto.
On & off rain was a major feature of the weekend, and if it wasn't raining you still had lots of puddles to deal with ……whether you were walking around or driving a race car at 160 mph. I am glad I was walking.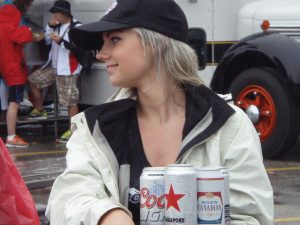 There were two particular standouts for me in walking around in the rain in Toronto. The first was, no beer lines! Instead, attractive though drenched young ladies brought trays of a variety of beer right to ya! The second was……POUTINE. We knew about this Canadian comfort food from our time living in South Florida……the very best soft serve ice cream we've ever had was at Dairy Belle in Dania Beach. Super smooth, rich and creamy. The best!! Dairy Belle is a French-Canadian hangout, and the Quebecois (folks from Quebec) flock there for their poutine. Ready for it??? French fries with fresh cheese curd covered in brown gravy. We had always said we would go there and try it but never got around to it. Well, when in Rome……! It's pretty good actually, and it certainly hit the spot in the cold pouring rain . Good stuff, eh?
Back to the races. Kyle and his #91 Hi-Tide car started 15th of 18 Pro Mazda cars. BANG….mayhem on the first lap with 6 cars crashing out. Kyle slipped through there, got down to business and had some of the fastest lap times, and ended up picking off a few cars to gain a solid 6th place finish. Then on Sunday, again starting 15th, he learned to stay out of the blinding rooster tails of the cars in front, really went fast, and finished 10th. Two top ten finishes!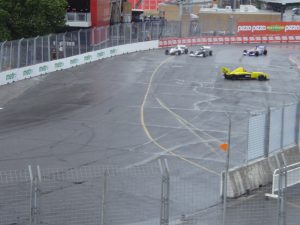 These ladder series (USF2000, Pro Mazda, Indy Lights) are driver development series that teach the young drivers what they need to do to be successful race car drivers. And success here can lead to a seat in an IndyCar. This weekend in Toronto was indeed character building particularly with the adverse weather and driving conditions. Kyle gained confidence. And the JDC Motorsports crew resolved a pesky bug in the car that had been affecting shifting and acceleration. Character building indeed! Thank you, adversity! Eh??
Breast? Wings? Thighs? Hey…..I'm looking at the big chicken!!!