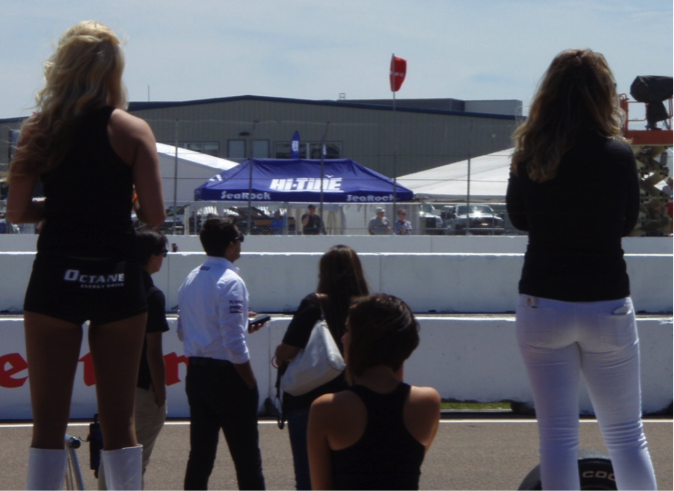 "Keep it off the wall! Bring it home in one piece!" I think we'll be hearing this advice a lot during this first season for the #91 Hi-Tide Boat Lifts Pro Mazda, from the stable of JDC Motorsports in Minnesota. It was particularly appropriate during the first races of the season at St. Petersburg, Florida's street circuit. This circuit is totally enclosed in concrete barriers, meaning there is nowhere to go but into a wall should you make even the slightest of errors.
The St. Petersburg Grand Prix (April 11-12) was the first race of the 2015 Verizon IndyCar Series season. The weekend excitement included the supporting open wheel classes of the "Road To Indy" series: F2000, Pro Mazda, and Indy Lights. The street circuit winds along the waterfront and downtown, bordering the adjacent Albert Whitted Airport. Progress Energy Park (Al Lang Field), the spring training home to the Tampa Bay Rays, was onsite and is one of the best places in the world to watch spring training baseball. The backdrop of the stadium, downtown, and the Grand Prix is Tampa Bay.
Our HQ was a bit of a splurge, to be honest. The Renaissance Vinoy is a large, pink Mediterranean Revival hotel that has been a feature of the St. Pete waterfront since Aymer Vinoy Laughner built it in 1925. At its beginning, The Renaissance Vinoy served as the centerpiece of St. Pete's social scene and as a winter destination for celebrities and the wealthy. During WW2, it served as housing and training base for over 100,000 military bakers and cooks. In the 1950's and 1960's, the hotel began to decline, largely due to their resistance to installing air conditioning, which caused guests to seek cooler alternatives. In 1974, the then-dilapidated Vinoy closed.
A voter referendum in 1984 saved the Vinoy from destruction, and it sat empty until 1990 when extensive reconstruction began. Reopening in 1992, it was a Stouffer hotel and then became part of the Renaissance Group when they purchased Stouffer. Continued makeovers since then keep enhancing this beautiful, historic structure, which was named a Historic Hotel of America by the National Trust for Historic Preservation. Once again, the Vinoy stands prominently within the local social scene and as destination for celebrities and people of wealth and taste.
Both celebrities and the wealthy may have been at the races that weekend, but who truly attended in abundance were the race fans. In spectacularly sunny and cool weather, we relished the 10-minute walk to the race circuit, which led us along the waterfront past Straub Park, the St. Petersburg Yacht Club and Pioneer Park. The alternative walking paths to the circuit were equally attractive, taking fans along Beach Drive or 1st Street with a multitude of choices of restaurants and outdoor cafes. We certainly had a wonderful dinner along that stretch, seated near a large propane heater to take the edge off the evening chill. And let's not forget about the post-race drinks we enjoyed while lounging at the Vinoy's outdoor promenade bar.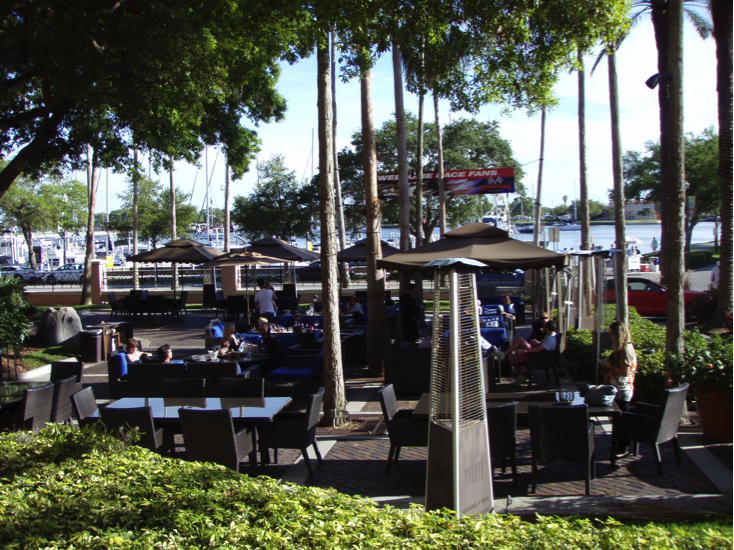 St. Pete has noticeably wide avenues and boulevards and the traffic, even on this busy race weekend, was gentle. It's a great downtown for walking around, with a great selection of restaurants near the waterfront area and off of Central Avenue, 2nd St, 3rd St, etc.
But, back to the race circuit and those concrete walls; JDC driver Kyle Connery (#91 Hi-Tide Pro Mazda) explained that racers are obviously aware, all the time, of those looming walls and the consequences of making a mistake on street courses like this — particularly when compared to upcoming road courses at New Orleans (NOLA) and Birmingham (Barber) that have sweeping, grassy margins you can spin or slide into. However, you won't be fast if you keep thinking about those walls. Fellow JDC driver, Michael Johnson (#54), hit the wall on Turn 3 in the opening practice session on March 27, was taken to the hospital, but was still made it to race weekend. How do you not think about those walls?
Kyle started from 12th position in Race 1 on Saturday, then worked to 10th, getting bumped in the right rear wheel, which affected the car's handling. Sometimes keeping it off the wall and bringing it home in one piece is the best you can do.
We went to the Pro Mazda paddock after the race to watch the JDC Motorsports team take the cars apart for cleaning in preparation of Sunday's Race 2. It is quite an effort, a team effort, to support Kyle's #91 and the other JDC Pro Mazda cars of Raoul Owens (#19) and Parker Nicklin (#26). While there, we met Dr. Jacques Dallaire, a well-known performance expert based in Charlotte, North Carolina who is Kyle's performance coach. What an extraordinary conversation we had with this gentleman, who has had an amazing 40-year career working with high-performance athletes and others in high-risk careers, including many drivers and crews in the motorsports world.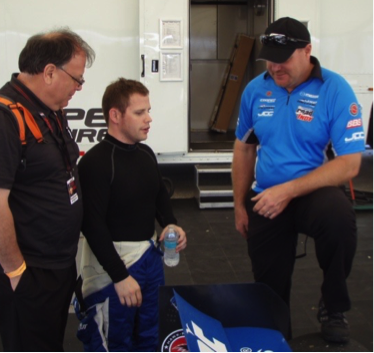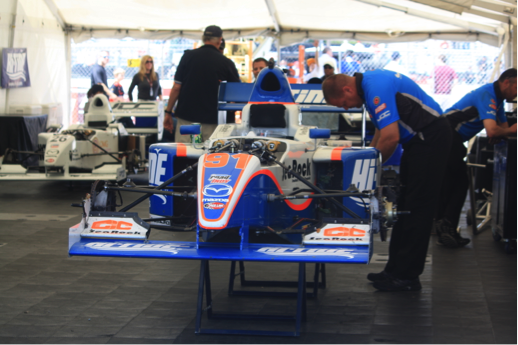 Dr. Dallaire discussed the fact that the human mind cannot really process more than one thought at a time. If you are thinking about those walls, you simply cannot think about winning the race. It becomes your dominant thought, and it steers your emotions and your behaviors due to those emotions, and thus, your ability to perform.
A racecar driver wishes for a great season. To have a great season, they need to have a string of great races. To have a great race, they have to drive a series of great corners. So, having a great season boils down to one, simple fact: they must drive great corners, over and over again. Their dominant thought must be about the next corner, not the walls. And at St. Pete, with so few possible passing zones, your qualifying position goes a long way toward determining success in the race. It all boils down to great corners.
Author: Randy Morris