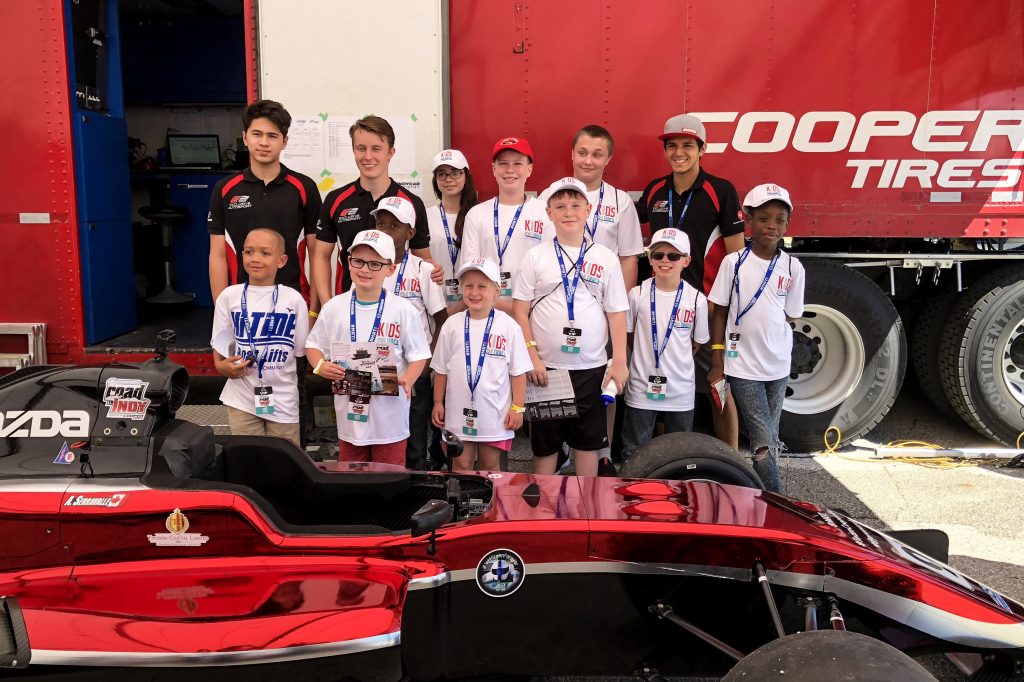 This article was originally published on Open-Wheels.
Few experiences are filled with as much pure joy and awe as a kid visiting the race track for the first time. The sights, the smells, the sounds and the speed cannot be replicated on television, and for children in particular, it can be mesmerizing.
In an era where the auto racing fan base continues to age with little interest from young viewers, the Florida-based Kids on Track initiative not only lets kids see what is going on at the track – it gives them the chance to experience a race weekend from the inside.
Kids on Track, founded by Hi-Tide Boat Lifts owner Craig Wood in 2015, is a 501(c)(3) non-profit organization that partners with local charities to provide children with unique experiences that include driver meet-and-greets, behind the scenes tours of race tracks and team operations and more during a Road to Indy race weekend.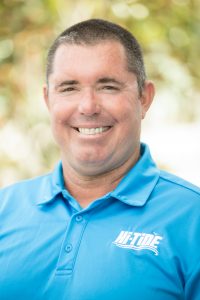 Wood found a connection with motorsports early in life, wheeling motorcycles as a youth before working as a data engineer in IMSA during the 1990's.
In 2015, the South Florida businessman returned to his racing roots by sponsoring former Road to Indy driver Kyle Connery. That partnership would eventually spark what is now known as Kids on Track.
While the original plan in 2015 was to bring potential Hi-Tide Boat Lifts clients to the track for hospitality purposes, the company found it difficult to align schedules and logistics in order to make the most out of these experiences. Eventually, Wood nixed the idea of bringing clients to the track and brought kids into the equation.
"I said, 'Hey, we are already set with this and we are already on the program. Let's bring kids to the track. Kids would love to do this,'' explained Wood. "Andersen Promotions already had the stuff set up and it just flowed very easily, so that's kind of how we got going in (the Road to Indy)."
Interestingly enough, the partnership with Dan Andersen's promotional firm came when Andersen purchased a boat lift from Wood's company.
Since 2015, Kids on Track has offered over 400 unique experiences for children by partnering with 30 local charities and kid's organizations around the country, such as Big Brothers Big Sisters and the Ronald McDonald House.
In 2019, Kids on Track will bring these unique experiences to children at each Road to Indy race weekend.
"For me, it was about trying to show kids that there is more to creating something that usually meets the eye," explains Wood. "Particularly with race cars, what's flashy is the driver and the cars are fast and the driver (is the one) who speaks. But there's a whole network of structure behind that, where the real nuts and bolts of the work goes on in order for that driver to speed around the track and hopefully get the checkered flag. The driver doing what he does is the culmination of a whole bunch of work.
"There are engineers, there are logistics people, there are all kinds of stuff behind the scenes where you can be in and amongst and part of that passion. You can even become key personnel in making that driver achieve what he's trying to achieve. That's really a similar theme across business and a lot of other things that you do. Even in the most individual sports in the world, there's such a large support structure – particularly the higher up in skill level that you get. The support structure gets much more honed and much more intense, and so that was one of the things that I wanted to expose the kids to."
Despite a background in two-wheel racing as well as sports cars, Wood's decision to align with Andersen Promotions and the Road to Indy was far from a mistake. Wood explains how motivating it is to work in the ladder series on a race weekend where IndyCar Series professionals work alongside the Road to Indy.
"It's like 'Okay, you're here now but you get to see where you're going,'' says Wood. "You're working right next to those other individuals and those other teams, so the whole thing kind of fit with the theme of presenting an opportunity by looking forward and seeing where things can go. It can all kind of happen at the track on that (particular) weekend, so that's how we selected (the Road to Indy)."
Beginning this year, Kids on Track has partnered with CoForce to make the race weekend experience even more enjoyable for children. CoForce is a digital media marketing and video production agency founded by former Road to Indy driver Anders Krohn and RTI executive Jonny Baker. In addition to supporting Kids on Track, CoForce's passion for supporting nonprofit organizations has helped grow the reach of the IndyCar Ministry as well as The Children's TherAplay Foundation over the last several years.
By partnering with CoForce, Kids on Track looks to have an even greater impact in 2019.

In speaking with Open-Wheels, CoForce client services representative Kate Jensen explained how seeing the experiences provided by Kids on Track can truly change lives for children looking for that spark of inspiration.
"I think that behind the scenes aspect of (Kids on Track) is such a big part of it," Jensen explains. "One of my favorite testimonials from the program came from a mentor from Big Brothers Big Sisters Milwaukee talking about how his little brother is interested in engineering, and through the Kids on Track experience he got to see the whole behind the scenes aspect and how it could be something that he wants to do in the future.
"That's where giving these kids new experiences can open them up to opportunities and inspire them in ways that they can't otherwise be inspired."
In 2019, Kids on Track and CoForce will look to expand on their involvement with Road to Indy race weekends with even bigger and better experiences at the track. By bringing in CoForce to generate new ideas and handle some of the day-to-day operations, Wood now has greater freedom to generate funding that will allow the program to prosper through the next five years.
"One of my main goals is to start some fundraising and some awareness (initiatives) so this whole thing will perpetuate," says Wood. "In addition to the growth we want to see this thing continue on, so we're going to have a fair amount of fundraising and that type of thing this year."
In the near future, Wood would like to see the program branch out to other forms of competition, including auto racing disciplines such as motocross and sports car racing, but also unique settings such as thoroughbred horse racing.
"I'd love to see all those other things come together, and in five years that's not an unreasonable goal," Wood says confidently. "I would love to partner with some other organizations as well as there are opportunities for that. I haven't quite gone that direction yet though – I'm relying on CoForce for a lot of this – but I have faith. A lot of faith."
To learn more about Kids on Track or support the cause you can visit Hi-Tide.com/Kids-On-Track or give them a follow on Twitter here. The first event for Kids on Track in 2019 will coincide with the NTT IndyCar Series season opener on the streets of St. Petersburg, Florida from March 8-10.