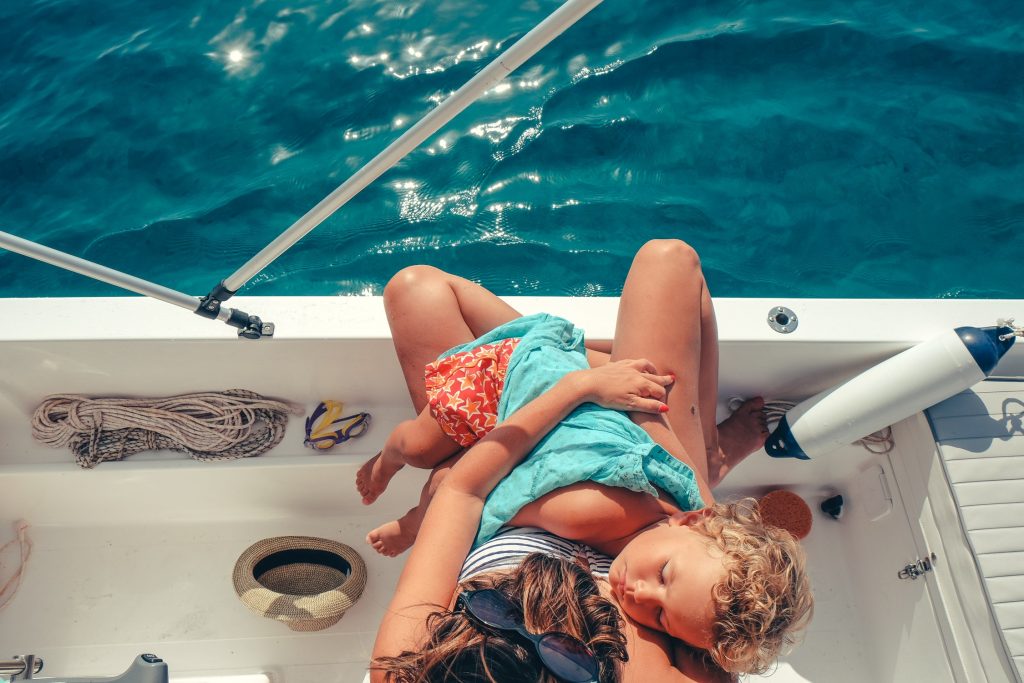 Boating is a way of life, often passed down from generation to generation. If you grew up boating, you likely have countless stories on the water. You probably have fond memories sitting on your father's or mother's lap with the warm sunshine on your face. There is nothing quite like sharing the experience of being in the water with your family and inspiring them to keep this passion for boating alive. For that reason, we collected an age-appropriate list of helpful tasks that will give your children a glimpse of the "boat life."
It may seem like just yesterday your little ones were learning to steadily walk on the boat for the first time. As they get older, giving them more responsibility to be an active member of your crew should be encouraged. As most boaters know, owning a boat comes with its fair share of chores. From regular tasks like basic cleaning to bigger responsibilities like docking, kids want to feel included in the process.
Start out by assigning them little jobs. This empowers them and makes them feel as if they've accomplished something of the utmost importance. In most cases, the tasks will require your supervision until your child is old enough or well-versed enough to handle things on their own.
All Hands on Deck: Age-Appropriate Tasks
The list below will start from simpler tasks and progress to more skilled tasks for older children.
Cleaning
Simply wiping down the vinyl in the cockpit or making sure the interior parts of the boat are squeaky clean with a washcloth.
Packing and Tidying Up
Carrying light weight gear on and off the boat, and packing up to go home at the end of the day can be extremely helpful.
Helping the Captain
This includes prepping for meals before heading out on the water, making sure the captain has everything he/she may need, and being an extra set of eyes for watersports or people in the water.
Tying Knots and Handling Lines
Start with learning how to tie essential knots and allowing them to tie up loose lines in the cockpit. Eventually, they can progress to bigger tasks like helping tie the boat to the dock.
Learning to Navigate
It's never too early to learn the rules of the water by helping with navigation. Teaching your child to steer properly and keep an eye out for buoys or channel markers to help keep the boat intact is essential.
Taking the Wheel
Driving is the biggest task of them all. With the right supervision and boater education courses, of-age children are more than able to operate the boat or at least be an interactive co-caption. Giving your child this task will allow him/her to understand the responsibility of driving a boat and protecting the safety of the people on board.
Hopefully these fun tips are helpful if you are a family who loves to be on the water. These tasks can help your children learn responsibility, grow personally, and can translate into lessons they'll carry with them throughout their lives.
For other ways Hi-Tide looks to help future generations grow, check out our non-profit program Kids on Track.