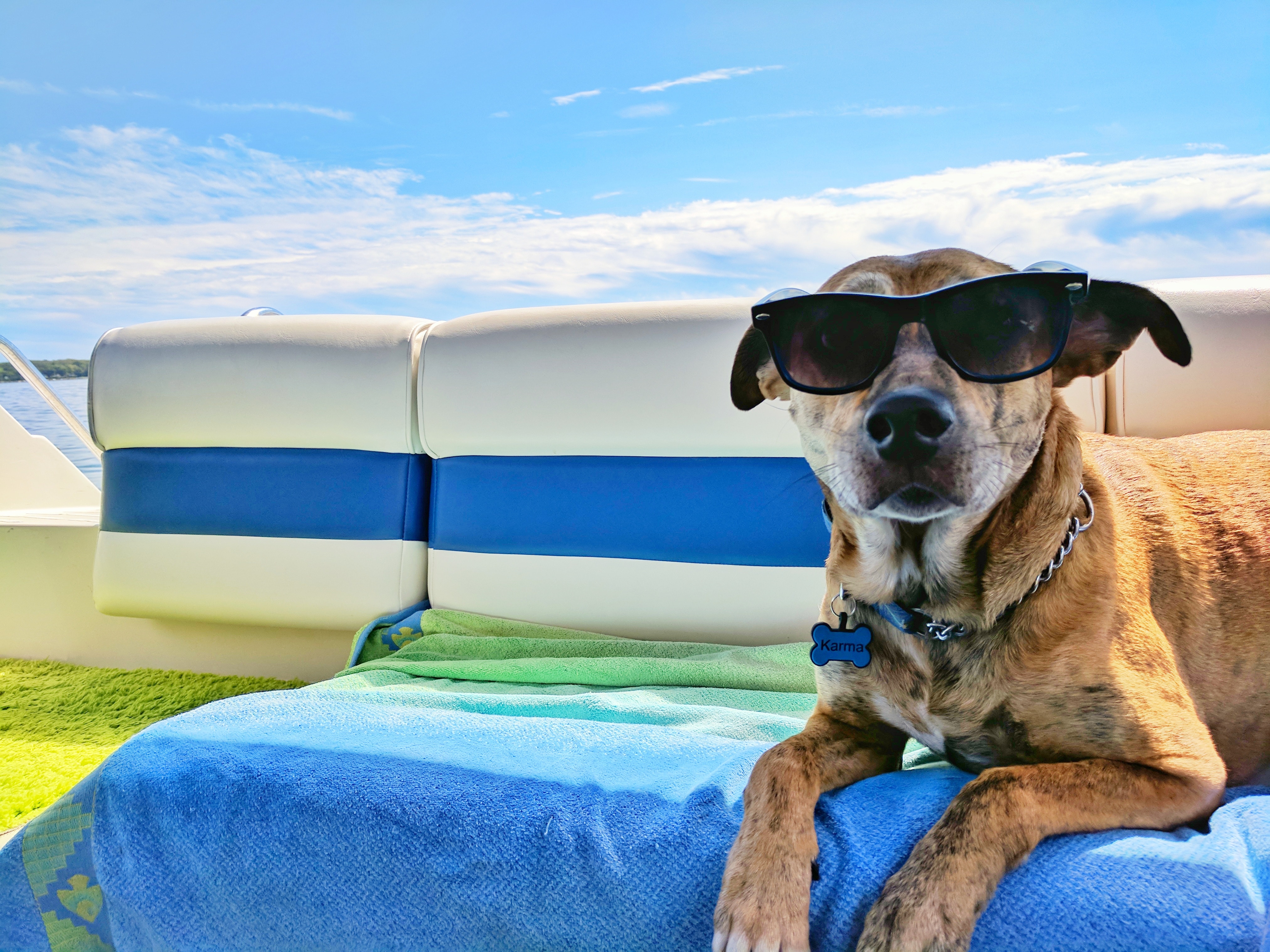 Whether you call them your four-legged friends, fur babies, or Fido, dogs are seen as extensions of family. As such, many boaters would love to bring their dog with them when they go boating, but are afraid of the dangers in doing so. Luckily, there are a few easily incorporated safety tips for boating with dogs that will keep your pet safe on the water.
Top Tips for Boating with Dogs
Life Jackets:

Not just for humans, a well-fitting life jacket on your dog can save its life if it were to go overboard. Just like your own PFD, ensure the life jacket properly fits your dog, is a bright, easily spotted color and has a handle to help you rescue your dog, should the need arise. Once you find the right fit for your pooch, safely allow them to test out a bit of swimming to ensure they still have a full range of motion with the vest on. Even if your dog is a great swimmer, rough waters, rain or exhaustion can be real dangers for dogs without life jackets.

Fresh Water:

Though boating can be fun, being out in the elements can work up a thirst in both people and pets. Make sure you have enough fresh water (and a bowl) for your dog to stay hydrated on your trip.

Get Acquainted:

Some dogs can get a bit skittish in new environments–especially on a boat, with its loud noises, vibration and movement. Before starting the trip, get your dog well-acquainted with your boat, until they seem comfortable and know the general layout of the vessel. When beginning your trip, ensure your dog isn't overly nervous or showing signs it may try to abandon ship.

Keep it Short:

There is no telling how your dog will react to being on a boat for the first time, so plan on a shorter trip for their maiden voyage. If they seem to quickly get their sea legs and enjoy boating as much as you do, then you can safely begin to extend their time on the water.

Sun Protection:

Just like humans, dogs can get sunburned. Try to keep your dog out of direct sunlight for too long, and be sure to apply dog-friendly sunscreen (unscented sunscreen or pet sunscreen), especially on their more exposed underbellies. Some even recommend "

doggles

" (yes, that's goggles for dogs), which don't only look cute but also protect your dog's eyes from the harsh sun.

A Place to "Go":

When nature calls, make sure your dog has a place to "go." So, place down pads, carpets or turf to keep their dog from relieving itself anywhere it sees fit on the deck. Also, be sure to walk your dog before disembarking to try to avoid accidents altogether.
Boating with dogs can be a lot of fun, but the above tips can help ensure your next trip is smooth sailing with your favorite furry friend. So, with your pooch properly strapped into a life jacket, equipped with doggles, protected by sunscreen, and properly hydrated (after a pre-trip bathroom break), we hope you have a great time on the water!