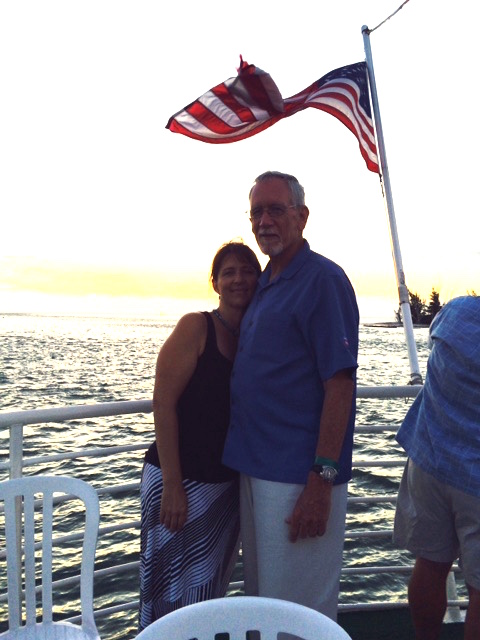 For those of us who grew up around boats in New England, our world revolved around the region's rocky harbors and coves, where boats lived on moorings. Yes, some berthed in slips, but access to your boat was mostly by dinghy or maybe yacht club launch. A boat at your own dock was not even a dream, unlike many are used to in the Florida boating commmunity.
A first-time visit to Chesapeake Bay revealed that a more intimate berthing relationship existed. Driving across the Severn River Bridge (RT 50/301) to Annapolis provided a glimpse into a narrow creek, whose shore was lined with quaint homes and tidy bulkheads and docks, with boats right outside the back door at the foot of the lawn. This was the Cove of Cork, and its entrance channel required that you run toward shore parallel to, and nearly under, the bridge, make a hard right, and run parallel and close to the shore, and then finally a hard left into the cove's entrance channel – all of which was unmarked at that time. Desire for a closer connection to the waterways must have kicked in without my knowing then. Just four years later, I moved from Newport to Annapolis to become a yacht broker, where I lived for the next 25 years, with its creeks and coves abound, small community marinas and private docks lining the shore with all those boats right outside back doors.
This kind of backyard access to your boat is perfect for tinkerers, whose boat projects seem to never end. If a tinkerer's project was ever completed, they were often led to purchase a new boat with a whole new list of projects to tackle. I'm more the type that sees a boat as a perfect refuge for, say, a nap. I still have a list of boat projects, but most of them will never be completed and there is no particular pressure to get a new boat since this one is "finished". There is a level of contentment that settles in that I find helpful in boat ownership. And in being married, for that matter (more about that in a moment).
Then came my first visit to Florida. I was at a friend's house (he was a fellow yacht broker) in Dania Beach, just south of Fort Lauderdale, and right outside of his back door was a patio and canal with a long bulkhead, beside which was an amazing assortment of sailboats and powerboats — and it was winter, and warm, and you could go sailing or fishing in February! That hidden desire must have kicked in again, right then and there. Without any intention of living in Florida, I received a job offer from a marine electronics manufacturer that required a move from Annapolis to Fort Lauderdale. That was 13 years ago.
This is the move that led to my marriage. I had discovered kayaking in my last couple of years on the Chesapeake and gained a closer, more intimate knowledge of those same waters I had once cruised in larger sailboats. Now in Florida, I was doing the same but with turquoise water, palm trees, and sandy white beaches to run up on and have a swim or just watch birds and boats go by — and it was warm, and you could do this in February!
I worked occasionally as a kayak tour guide in Fort Lauderdale, my favorite trip being the nighttime Full Moon Cruise. Imagine paddling gently under a full moon, then drifting and seeing palm trees in silhouette with the rising moon behind, dragging a hand in the warm water. On one particular trip, we had overbooked by one seat. Since my Old Town kayak could be paddled as a single or in tandem, it was simple to rearrange the seats to accommodate the extra guest. It turned out that it was her birthday, and her friends had arranged the Full Moon Kayak Cruise as a surprise. This turned out to be a great way to meet the person who you will marry, and as I write this, we're just four days from celebrating our 10th wedding anniversary.
My wife and her brother are the owners of Hi-Tide, the company founded by their father in 1979. I was aware of Hi-Tide Boatlifts, as so many of my customers in Maryland and Florida personally owned their lifts. Now, as I drive around, doing my marine electronics consultant job, I have Hi-Tide signs on the car door. It is both interesting and gratifying to see how many people approach me at the boatyard or West Marine parking lots because of these signs. Many of these people are, themselves, Hi-Tide boatlift owners, and just say, "Thanks for a great lift." Others have questions well suited for our dealers. "Who can I call for service on an existing lift?" "Who can guide me on increasing their lift capacity for a new boat they want to buy?" "Who can advise me about getting a new boatlift or inspecting or upgrading an existing boatlift at a house I am considering buying?"
What we all have in common is a passion for boats and being around the water. My journey to get closer to the water contributed to getting me from New England, to the Chesapeake, then to Florida boating and a surprising new life and family. Doors opened unexpectedly and took me in directions I never anticipated. I'm excited to see what stories we uncover about people and places as we travel along the East Coast and lake regions and we pass these stories on to you. There are so many ways to enjoy life on the water, and in my case, you may even meet the person you'll marry. It just goes to show; you never know what a life spent boating may bring.
Author: Randy Morris