You have a great new boat, decked out in top-of-the-line options and are ready to hit the water — or so you think. Many boaters, even experienced ones, can sometimes forget that one little thing that they need to properly secure their vessel. That is why we offer a full list of accessories that can add up to a big difference for you when storing your boat. We'll examine three of the top boating accessories, just in case you're missing that one last finishing touch to keep your vessel safely stored and ready for your next trip on the water.
Top Boating Accessories

With a plethora of options to choose from when docking your boat, you may want to do a bit of homework before shopping. At Hi-Tide, you can expect to find every odd and end to fit your boat's exact needs, including brackets, bunking, winder covers, flare guides and cradle stabilizers that are perfect for your vessel's specific needs. We're especially proud of our electronics offerings, which include our patented Riches Switch, as well as flexshaft limit switches, remote controls and more, all of which are designed, built and tested in house.

Whether your needs are large or small, floating docks are an incredibly easy solution for boaters looking for a dock that is versatile and dependable, rising and lowering with water levels. For this reason, floating docks easily rank among our top boating accessories, with standard 18-inch pontoons, high-density polyethylene build and welded aluminum sub-frame. If dependability is what you're looking for, you've found it in our floating docks.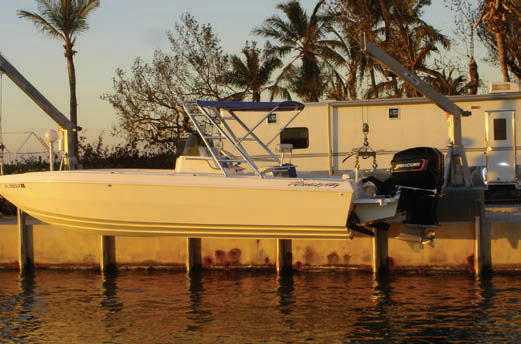 Featuring the most streamlined, yet still secure, boat lift design on the market, davits are equal parts sleek and reliable. Our davits are outfitted with Hi-Tide Gear Drive® winches to ensure that performance is no question when taking on your next boating adventure. If you ever do have issues, our one-year comprehensive, two-year motor and five-year gearbox warranties have you covered.
Though there are many accessory options to choose from, a Hi-Tide expert would be happy to discuss what works best for your boat, yacht or boat house today.